Tommy gave me a parallel character LCD that he's had stashed away for a long time. He was on the right track, just never finished it. I looked at what he'd made, based on the original schematic. I hooked the LCD to a DB25 connector that was already soldered to a ribbon cable, hooked it up and it worked.

I noticed that the brightness and contrast knobs were set and didn't need to be adjusted. One pot was even set to 0! After a few minutes I was able to boil down the circuit to just use one 50-ohm resistor.
Here is the final "simple" schematic: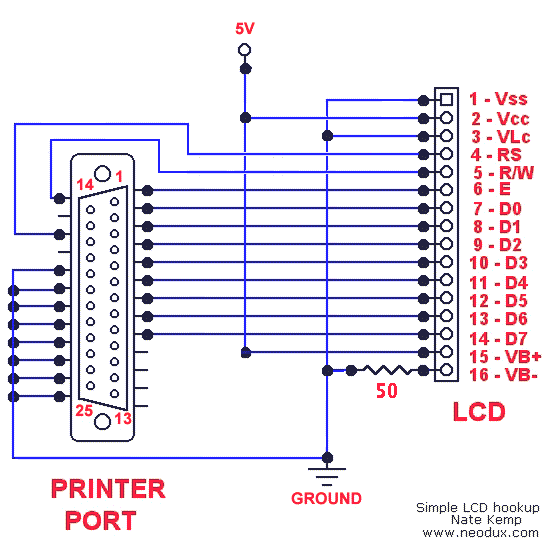 This schematic should work on any Hiatchi HD44780-based character LCD, so long as it only has a single 8-bit connection, like the Seiko L2014.

update: You may also use this LCD screen test app to check your LCD: http://www.neodux.com/projects/lcd/LCDsetup.zip

Grendel sez: You da man, sir. Thanks. Here is a picture of the LCD in action. Videos are here (2.5Mb, avi) and here (6.9,avi).

update: I (grendel) just got the LCD working under linux using lcdproc/LCDd. Now, if only I could figure out how to get lcdvc to work with it, I'll be even more pleased.