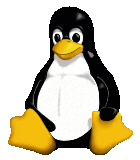 And now for something for all the speed-geeks. This was a post I had on the old neodux site, here is the link again. It's good reading for any geeks out there. (Probably completely useless to anyone else.)
In short, it's a how-to for creating a linux swap partition using your left-over video memory.

And, for those of you wishing to just boot from a non-volatile RAM-disk, go buy a CompactFlash disk and get a CompactFlash-to-IDE adapter. (There's nothing particular special about that one, its just the first of many) CF has very low seek times even compared against the fastest SCSI drives.