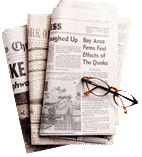 I know I haven't authored anything for a while, but that is because I am hellalazy. Bite Me. Anyway, I thought I would take this time to announce to the world that tomorrow I will be heading out on my goodwill mission to bring hope, peace (after war), and prosperity to the third world. I will be leaving from Houston Intercontinental Airport today at 6:45pm, and arriving in San Jose, Costa Rica at 11:56pm (after stopping in Miami to slap Shaq and some Cubans). Once I am there, I will take a long needed vacation from not writing rants, as well as all the moving I have done lately into my new apartment in College Station. I have included a list of things I will be doing down in Costa Rica so that you all may feel like you are able to be doing what I am doing, even though you can't.

1. Host Pro-Bush/America rallies.
2. Visit the precious rain forests.
3. Visit the gorgeous beaches.
4. Visit the gorgeous lasses.
5. Learn the spanish language.
6. Hike the mountains.
7. Taste fine coffees.

Yeah, it probably won't happen like that, but it will be lots of fun, and I will be sure to give you all constant updates on the international platform that I will be creating and exploiting. I will return to my duties here Thursday night, August 19, 2004. Until then, I bid you all farewell, and hope to return to you without dying in a plane crash. Piece.