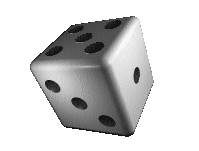 I got Call of Duty 2 for Christmas from my parents. I didn't get a chance to install it until I got home after New Year's. It was worth the wait.

Finally a great game that wasn't (at least to me) overhyped. I didn't hear much about it other than a commercial or two on TV, and it's release on the Xbox 360. I thought it looked nice on the Xbox demo in stores, but that's what demos are for, to look nice.
I was surprised to find the gameplay still very much like that of Call of Duty 1. They took some aspects of CoD 1 and United Offensive out, like sprinting and "cooking" grenades.
The weapon sounds are a bit different, for better or worse? I can't tell yet. The voiceovers are great, much more realistic sounding. Havoc says that the EAX support is much better than any game he's had. (I wouldn't know since I don't have a SB card)
The graphics are phenominal. Imagine that, a sequel that improves graphics and doesn't require a video card upgrade! (BF2, *cough*, *cough*)

The game is super impressive. I'm very pleased.
As with any sequel, there are a few minor differences that players might like to have back, like sprinting and cooking grenades, but the game overall is an excellent release without any glaring bugs or major flaws so far.

Oh yeah, and single player is just as fun as Call of Duty 1.