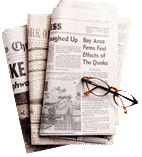 Tired of wanting to check something out and have to put in your email, credit card, or not register at all? Well, there is hope.
Mailinator lets you create a fake inbox for a few hours. The beauty of it comes when asked for an email; just go to Mailinator and let them hook you up.
The second one is cool but you have to be a Citibank card holder. Citibank lets their card holders create Virtual Account Numers for online shopping. No longer do you have to put in your credit card to get the shipping info (which, thankfully, is becoming less common).
The last is just too cool. Tired of typing in name, address, and everything else just to read an online newspaper? Then check out BugMeNot.com. Just type in the desired site and you will have a username and password withount entering a thing!
Thanks to these sites you can beat the system.

Grendel sez: BugMeNot is a cool site. Even cooler, for those that use Firefox, is the BugMeNot plugin. All you need to do is just right-click in a field to fill in, and the extension grabs the correct info from BugMeNot, and fills it in for you. Pretty slick.